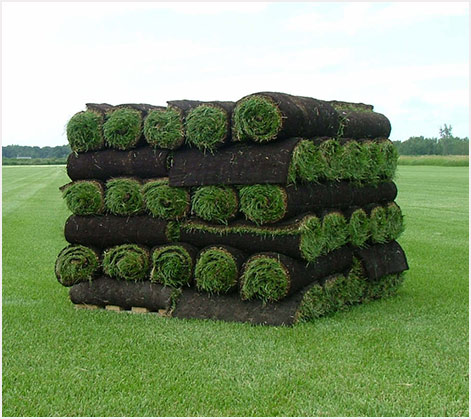 A & L Sod in Lino Lakes, MN has delivery and pickup available Monday-Saturday. Whether you are looking for shade sod, or sod for sunny areas we have the sod you need.
A&L Sod  has been serving the entire St. Paul and Minneapolis metropolitan area since 1956. We grow the highest quality Kentucky Bluegrass and Fine Fescue sod. We also offer delivery to Greater Minnesota, North and South Dakota as well as western Wisconsin.
If you have a large area to cover, have us deliver it for you. If you are doing a smaller job, you can pick it up at our office at 77 Main Street, Lino Lakes MN 55014. Shade or sun, big or small, we can do it all.
Please check out any of the related topics on this site for more information. If you don't find what you're looking for please e-mail us at sales@alsod.com  or call us at 651-784-0500.
A & L Sod in Lino Lakes, MN
DELIVERY

We cut fresh sod daily Monday through Saturday for same day delivery.
Our delivery area includes the Twin Cities metro area and Western Wisconsin. We have a one (1) pallet minimum order. We will place the pallets around your lawn to the best of our ability. There is a deposit of $30.00 per pallet. You will receive a refund after the pallets are returned within 30 days. Please visit our online store or call our office for price quotes on your specific delivery needs.

PICKUP

If you need just a few rolls or several pallets you can pick up any amount at our office. We cut fresh sod daily Monday through Saturday. We have extra sod available for pick-up every day, but keep in mind that if you plan on stopping late in the day or are looking for amounts greater than 1 pallet call ahead to reserve your order with a credit card.  You can also visit our online store  select local pickup on the  checkout page. Their are also day and time options. Our shade sod is cut by appointment only and also needs to be held with a credit card or purchased online.

SEED

We sell 5 pound bags of seed at our office and in our online store. We have two different kinds of seed blends.

For Sun, use our Water Wizard  blend.  These are the same types of Kentucky Bluegrass we use in our sod. Selected for their Deep blue/green color, drought tolerance and fertilizer inputs.

For Shade, use our A&L Shade sod mix. Comprised of Fescue and blended for our Minnesota climate

STAPLES

We sell staples which are used to hold sod rolls in place if you are laying them on a hill. We have boxes of 1,000 and bags of 50. Call or email us for more information on prices.